RCGS: Egypt Nile Cruise with Joseph Frey
Expert Local Guides
Ways to Travel :
Guided Group, Private Group Adventures, Small Ship Cruises
Activity :
Culture, Small Ship Cruises
Activity Levels :
1 out of 7 - Leisurely
You are healthy, enjoy the outdoors and want a relaxing trip. No experience is required.
Discover ancient temples and tombs, travelling on the Nile by boat with Chair of The Royal Canadian Geographical Society's College of Fellows Joseph Frey.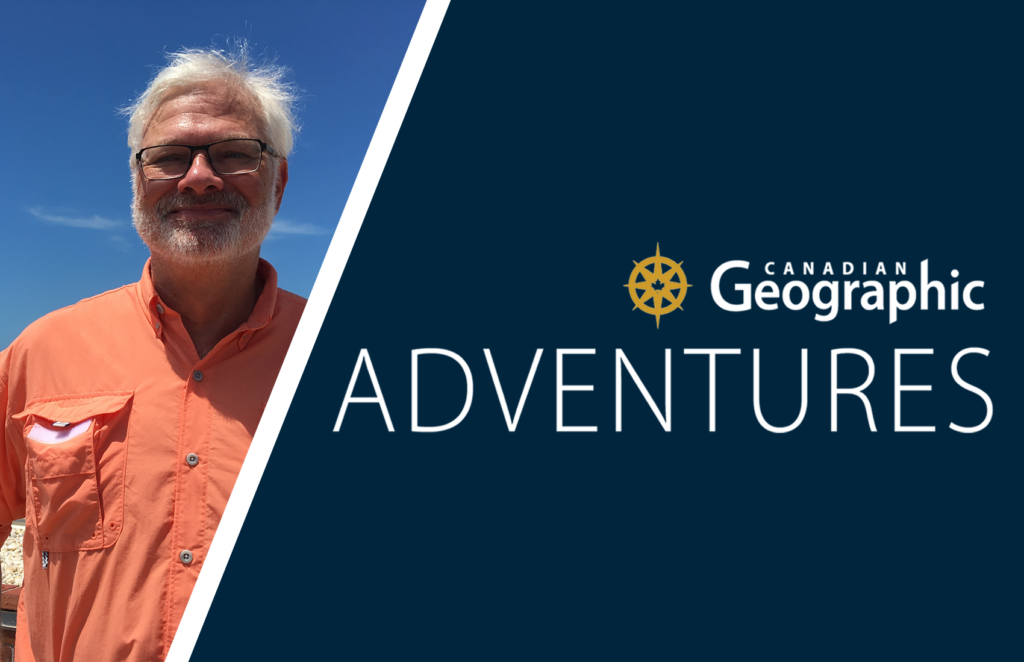 Joseph has travelled to more than 80 countries and all seven continents. He is an accomplished science writer, published in TIME, The Globe and Mail, National Post, Toronto Star, Geographical, Canadian Geographic, Medical Post, and DIVER to name a few. 
Fall under the spell of the mighty pharaohs' legacy with RCGS leader Joseph Frey. Immerse yourself in Egypt's fascinating history and the abundance of well-preserved monuments and treasures. You will visit major sites and attractions along the Nile in a comfortable fashion, tasting traditional Egyptian cuisine. Boarding the cruise boat at Luxor we travel upstream, watching local life pass by, whilst also visiting the spectacular Edfu and Kom Ombo temples along the way. Cruising past the lush green banks and the beautiful sunsets over the Nile, with incredible onboard facilities, Cruising the Nile makes for an unforgettable Egyptian odyssey.
Highlights
Ancient temples and tombs
Cruise boat and luxury hotels
The Great Pyramids
Treasures of King Tut
Valley of the Kings

Special Departure with Joseph

 Frey

 
Key Information
4 nights on cruise boat and 4 nights 4 and 5-star hotels
Travel by minibus, cruise boat and one internal flight
Group normally 6 to 20, plus local leader. Min age 16 yrs
What's Included
All breakfasts, 4 lunches, 4 dinners
All accommodation (see accommodation section)
All transport and listed activities
Flights from London (if booking incl. flights)
What's Not Included
Travel insurance
Single accommodation (available on request)
Visas or vaccinations
Responsible Travel
Tourism can be a real help to local communities, providing income, positive cultural exchanges and a financial incentive to protect their natural environment. Ours is a 'total approach' to responsible tourism, covering everything from the way we plan and operate our trips to the practices of Exodus as a company.
We support A.C.E (Animal Care in Egypt), a charity dedicated to stopping the suffering of animals in the most deprived communities in Luxor by providing free veterinary care and education. Currently, there is a walk-in clinic, a hospital for crucial surgery and stables for the animals to recover. During term time, they host over 150 children a week to teach them about animal welfare and to better care for their animals. If time permits, there should be an opportunity to visit the facility on Day 4.
Visits to Nubian Villages near Aswan have become quite commercialised and can encourage the practise of keeping crocodiles as pets in small pits or cages, something which Exodus Travels does not support. We visit Animalia Nubian House which is a small Nubian run museum that explains Nubian culture, gives a less commercial experience than a village tour and does not keep live crocodiles.
In March 2019, Exodus Travels launched the Exodus Travels Foundation where we support initiatives all around the world. But it cannot exist without travellers who care. Get involved or learn more about what Responsible Travel means to Exodus here…
Itinerary
Fly to Cairo.
Accommodation: Cairo Pyramids Hotel or similar
Day
1
Start Cairo.
Accommodation: Cairo Pyramids Hotel or similar
Day
2
Visit the Pyramids at Giza, the Egyptian Museum, El Azhar Mosque and Cairo's lively bazaar.
We start the morning with a tour of the Pyramids at Giza. Home to the Great Pyramids of Cheops, Chephren and Mycerinus and the timeless and enigmatic Sphinx; these great monuments to the afterlife defy the imagination. Only the throng of sightseers, Egyptian and foreign, milling around their huge foundations, keep the viewer in the 21st century. We next pay a visit to the incredible Egyptian Museum of Antiquities, which contains relics dating back to 4000 BC, including the fantastic riches of Tutankhamun's tomb. Here is a unique opportunity to survey the many fabulous treasures of Egypt in one place and to set the scene for the rest of the tour. For the remainder of our tour we experience modern Cairo with visits to Al Azhar mosque, which despite being Cairo's oldest mosque and university is still very much in use today, and the small alleyways and streets that make up Cairo's popular bazaar. Please note that we will need to cover up at the mosque (long sleeves and trousers) and women will also need to cover their hair with a scarf.
Accommodation: Cairo Pyramids Hotel or similar
Meals Included: Breakfast
Day
3
Fly to Luxor; visit to Karnak and Luxor temples. Board cruise boat; free afternoon to explore.
We typically transfer to Cairo airport before sunrise for our flight to Luxor (flight times can vary). On arrival in Luxor we visit Luxor Temple and the huge Karnak Temple complex on the east bank of the Nile. Built over 1500 years, Karnak is a confusion of pylons, courtyards, halls and sanctuaries. Its Hypostyle hall has 134 columns 23 metres high and 15 metres in diameter! Both temples are incredibly impressive. We arrive at our cruise boat in time for lunch on board before having free time in the afternoon to relax or explore Luxor.
Accommodation:  M/S Nile Style, M/S Esmeralda or similar
Meals Included: Breakfast, Lunch, Dinner
Days
4 - 5
Valley of the Kings; two days on the Nile with visits to Edfu and Kom Ombo en route.
We begin Day 4 with a visit to the Valley of the Kings on the west bank of the Nile, which contains the once hidden tombs of over 62 Pharaohs, including Tutankhamun, Seti I, Ramses III and IV. A discreet entrance in the hillside takes the visitor underground; a series of corridors and ante-chambers leads us down to the burial chamber and sarcophagus. The walls are covered in brightly painted images and hieroglyphs - a map of the afterlife to ensure the king's safe passage. One ticket allows us to see three tombs. The ticket usually allows entry into what are regarded as the most impressive tombs, but if you have time a visit to the tomb of Ramses VI is also highly recommended. Visits to tombs are now strictly controlled to halt further deterioration of wall paintings - each tomb is periodically closed for a number of weeks. On return to our cruise boat we begin our voyage along the Nile, travelling upstream from Luxor to Aswan. Exact sailing and excursion times cannot be guaranteed for each individual trip but we will visit the temples of Edfu, famous for its roofed inner temples and huge Pylon, and Kom Ombo. The cruise boat has good facilities: a sundeck with sun loungers, bar and small pool, restaurant, gift shop and library - these can all be taken advantage of when the cruise boat is docked or during sailing. The sunsets over the Nile are truly stunning and travelling from Luxor to Aswan, enjoying the beauty of the lush verdant landscape make this journey special.
Accommodation: M/S Nile Style, M/S Esmeralda or similar
Meals Included: Breakfast, Lunch, Dinner
Day
6
Continue Nile cruise; optional visit to Abu Simbel.
Today there's the option of a visit to Abu Simbel, 300 km. to the south through the Nubian Desert. The optional bus tour starts at 3.30/4 in the morning when we get picked up from the boat. A breakfast box is provided. Around 8 am we will arrive at the destination, where we are given approx 3 hours to visit the temples. Built by Ramses II the two temples are certainly some of the most spectacular in Egypt. Originally on the banks of the Nile, the temples were raised to a new site above the lake in the late 1960s, as the waters from the new Lake Nasser rose behind the Aswan High Dam. The four great seated statues of Ramses II stare east towards the rising sun. We will be back in Aswan around 3 pm.
Accommodation: M/S Nile Style, M/S Esmeralda or similar
Meals Included: Breakfast, Lunch, Dinner
Day
7
Disembark cruise; tour of bazaar or optional excursion to Philae Temple, Aswan High Dam and Cleopatra's Unfinished Obelisk.
After breakfast on board we disembark our boat and have a full day in Aswan. This is a laid-back, sleepy town that reflects the character of its largely Nubian inhabitants, known for being friendly and hospitable. By virtue of its position on the old caravan route, it has always been a trading centre and we thoroughly recommend a visit to the packed bazaar today where merchants display a wealth of exotic spices, carpets, leather goods and countless other wares. There is also the option to visit the Nubian Museum, situated opposite our usual hotel in Aswan. Opened in April 1998, the museum chronologically charts the history and culture of the Nubian people. Alternatively, we can arrange an optional visit to Philae Temple. In the 1970s it was relocated by UNESCO to Aglika Island after it became evident that the original site of Philae would submerge on completion of the Aswan High Dam. It represents a magnificent and enduring testament to both ancient and modern engineering. During this excursion we will also visit Aswan High Dam and Cleopatra's Unfinished Obelisk.
Accommodation: Basma Hotel or similar
Meals Included: Breakfast
Day
8
Optional visit to Nubian museum; afternoon felucca ride.
Today it's our last day in Aswan. Our morning is free to relax or book on optional excursion to St. Simone Monastery or a nearby Nubian museum. In the afternoon we explore the Nile by felucca, the traditional Egyptian sailing boat. Using the felucca, we can truly savour the tranquillity of the Nile and the beauty of the surrounding landscape, where the vast desert almost reaches the water's edge. (The sailing by felucca timing might be changed according to weather conditions). We end the day with our final dinner together, at one of this historic city's restaurants.
Accommodation: Basma Hotel or similar
Meals Included: Breakfast
Fly to London.

Meals Included: Breakfast
Day
9
End Aswan

Meals Included: Breakfast
Essential Info
Visa
Egypt
Travellers from the UK, US and EU normally need a visa to enter Egypt. Please note, visa requirements often change and it is your responsibility to obtain any required visas for this trip. Therefore, we recommend that you check with the nearest embassy or consulate of your chosen destination(s), including any countries you may be transiting or transferring through.
Some local governments provide guidance on what visas their citizens need. To help, we've gathered a selection of useful links below.
• Australia: www.smartraveller.gov.au/destinations/africa/egypt
• Canada: www.travel.gc.ca/destinations/egypt
• United Kingdom: www.gov.uk/foreign-travel-advice/egypt/entry-requirements
• USA:  www.travel.state.gov/content/travel/en/international-travel/International-Travel-Country-Information-Pages/Egypt.html
If you are obtaining your visa online, please ensure you have a scan of your passport ready. The file size should be small and ideally saved as a JPEG or PDF otherwise you might not be able to load it on the visa application.
You will need to provide your host's information on the application – please use the following details:
South Sinai Travel
79 Merghany Street
Cairo
Egypt
Telephone: +20 22418 7310
www.southsinai.com
salwa.ibrahim@southsinai.com
Please note, Egyptian officials have requested tourists carry a copy of their passport with them while in the country. Please also note, some prescribed medicines are controlled substances in Egypt.
Vaccination
Egypt
There are no required vaccinations. However, recommended vaccinations include tetanus, polio, hepatitis A, hepatitis B, rabies and typhoid.
You will also need a yellow fever vaccination certificate if arriving from a country with risk of yellow fever transmission. Some travellers may need proof of a polio vaccination. Please confirm with your doctor or travel clinic.
Eating and Drinking
All breakfasts, 4 lunches and 4 dinners included.
In the itinerary, we state which meals are included on which day. For meals not included, we suggest you allow approximately GBP 7-9 (USD 10-12) for lunch and GBP 11-13 (USD 15-18) for dinner. Food in Egypt involves such things as kebabs, chicken, stews, pitta-bread, felafel, beans, aubergine and other vegetables, pickles, salads. Dishes tend to be simple and wholesome and vegetarians can be catered for if they accept that the options may be somewhat limited.
Weather
Rain is very rare in all parts of Egypt and most days are sunny and clear. Summer temperatures often reach the upper 30's but this is particularly true for the period between June and September. The winter months can be surprisingly cold, especially on the Nile or at night. The average daytime maximum in Cairo in January is 20ºC, night time minimum is 8ºC. In the summer these temperatures are 35ºC and 22ºC respectively. Daytime temperatures are on average 3 or 4 degrees higher in Aswan.
Weather Charts
Is this trip for you?
This trip has been graded as grade 1 (leisurely). Leisurely grade trips are suitable for all clients with average health and fitness. No experience of any activity involved is necessary.
Most days involve early starts (especially Day 3 when we catch an early flight to Luxor) but this allows us to get the most from our time in Egypt and avoid the worst of the heat.
Egypt can get hot, especially during our summer, which can cause discomfort whilst travelling. Care should be taken to keep hydrated. The hottest months tend to be June to September when temperatures can reach as high as 38 to 40ºC in the south of the country.
The hotels and cruise boat that we use on this trip are of a high standard, providing excellent levels of comfort.
Please note that the new Egyptian Museum is scheduled to open in October 2020 but that this is subject to change. We will change to the new museum when it is open.
Please note that Ramadan is expected to run from 22 March 2023 to 21 April 2023 and 10 March 2024 to 10 April 2024. Ramadan is a special time to visit Egypt as it is one of the most important periods in the Muslim calendar. Each evening the streets empty while people return home to break the fast and then there is an air of festivity every evening. Our leaders and drivers choose to work at this time so we continue to run trips however please be aware their energy levels may be slightly lower. Tourist sites are still open although closing times may be earlier than usual. Your leader will know how the timings for each day need to be adapted in order to still experience all the inclusions on this trip. Restaurants may close during the day and this is also accounted for in planning meal arrangements for your group. Shops are usually open though their hours may vary and they will definitely be closed during the breaking of the fast. To fully enjoy your holiday experience at this unique time of year we suggest patience and flexibility (in fact these are useful at any time of year on any overseas holiday).
Following a review of all our trips we have categorised this trip as not suitable for full wheelchair users, but it may be suitable for other persons of reduced mobility. Please contact customer services to discuss the trip and your personal condition.
We use premium four/five-star hotels (Egyptian classification) on a twin-share basis. We typically stay at the Basma Hotel in Aswan. It is located on the East Bank on Aswan's highest hill, directly opposite the Nubian museum. All the rooms have balconies with views of the Nile or the surrounding desert. The facilities in the rooms and in the hotel itself are excellent, including a choice of bars and restaurants, a huge swimming pool and all set amid well-maintained gardens. In Cairo we generally use the Cairo Pyramids Hotel. Set in a landscaped garden it offers stunning views over the pyramids.
Cruise boat
We sail the Nile on the M/S Esmeralda or a similar cruise boat. It has great facilities including a swimming pool, sundeck, gift shop, restaurant and bar. It's 236ft (72m) long and 41ft (12.6m) wide, while each of the 60 en suite cabins is fully air-conditioned and has a TV and minibar. Wifi is also available.
Single rooms available, please enquire for prices.
Additional Accommodation
Can be arranged in Cairo pre or post tour. Please speak to a consultant at the time of booking if you would like additional accommodation.
Covid-19 refund commitment
You will get a refund if you have to cancel your trip due to COVID-19.
Availability
Adult Price From
Optional Single Supplement
Saturday Saturday
02 Dec 2023 02 Dec 2023
Sunday Sunday
10 Dec 2023 10 Dec 2023
Availability Available
Adult Price From NZD 3,549
Optional Single Supplement +NZD 638
with Joseph Frey - RCGS
Availability
This departure is available for new bookings, and will be guaranteed to go ahead once it reaches minimum numbers. Please click Continue to proceed with booking or contact our Sales team for assistance.
View Trip Notes
No departures found.
Would you like to include flights with your booking?
ATOL protected
Competitive flight prices
Full refunds in the event of FCDO cancellations or major disruption at your UK departure airport
Specialist support to rearrange flights and transfers
Regional flights available from many UK airports
*Please note any date & price adjustments will be displayed on the next step of booking. You will be able to revert back to booking without flights if the options aren't suitable for you.
Looking to set your own pace on your next adventure?
Then why not try our Self-Guided holidays that put you in control
Private Adventures
Not found the date you're looking for? We can organise this itinerary as a Private Adventure – just click on the tab above the list of dates and prices, let us know your preferred dates of travel and how many people are travelling, and we'll do the rest!
The Adventure Begins Here
Get regular inspiration straight to your inbox from Exodus' experts.
RCGS: Egypt Nile Cruise with Joseph Frey