Read time – 3 minutes
As holidaymakers, we often forget that the places we visit are also the homes of other people, so it is our responsibility and that of the travel industry to ensure we respect and preserve each destination.
Responsible Travel Campaign
This summer, ABTA has launched a campaign, in conjunction with Travelife for Accommodation, to encourage responsible travel. The "Making Holidays Greener" campaign follows the theme of "Reduce, Reuse, Recycle" and will run until the end of September 2019.
Holidaymakers can make a pledge to take responsible social and environmental action by managing food and packaging waste. There are countless other ways we can all contribute to protecting the environment by reducing our carbon footprint when travelling. You'll find 15 pledges online and each gives you tips on how you can reduce your environmental impact.
At Exodus Travels, we are extremely passionate about responsible tourism and we have a number of policies in place that promote sustainable travel.
Nepal & Water Systems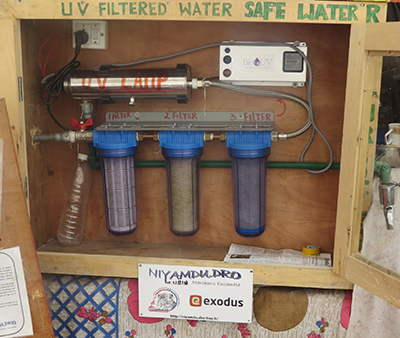 Nepal water system
In 2014 and 2017, respectively, Exodus Travels set up eco-friendly cafés with local groups of women in Hankar Village and Skiu in the Markha Valley. UV water filters were installed so that trekkers could buy safe drinking water from the locals. Sadly, in 2018, the café in Skiu was destroyed by a flood. Exodus Travels is now funding another two eco-cafés to be run by local women in Pensi and Kaya, and each café will have its own UV water filter.
In 2015, a lodge used by Exodus Travels in the village of Langtang was also destroyed in an earthquake. The owner of the lodge, Karma, tragically lost his wife and son in the earthquake and was left with nothing. With the help and financial backing of Exodus Travels, Karma has rebuilt the lodge with a UV water filter that we donated.
Jose Miguel and his mum
On many of our tours, travellers are encouraged to minimise their food waste and reduce the use of single-use plastics wherever possible. Braccicorti Lodge, a picturesque farmhouse used by Exodus Travels on the Walking in Tuscany trip, provides guests with local produce for picnic lunches and other meals.
In order to reduce food waste, guests can select their own food. The picnics are also packed inside Tupperware boxes that can be washed and reused. Braccicorti farmhouse is bound by the law of agritourism to source all products locally.
Exodus Travel's leader for Sierra de Aitana Trek, Josè-Miguel, prepares sandwiches for guests using ingredients picked from his very own garden. The food is placed inside cloth picnic bags stitched by his mother.
Costa Rica Sustainability and Eco-Centre Work
During the Discover Costa Rica trip, travellers stay at the Esquinas Rainforest Lodge, where they practice sustainable and responsible tourism in many ways. The eco-lodge is set inside Piedras Blancas National Park and is 100% carbon neutral. The team here are continually researching ways to conserve the environment and they also help fund education and healthcare in the local area.
Their policy to reduce their impact through sustainable tourism and conservation is incredible and they have been awarded a three-leaf Certificate of Sustainable Tourism by the Costa Rica Tourism Board.
At Exodus Travels, we continue to strive towards providing responsible travel and we encourage our customers and partners to make a difference in any way they can.
Take a look at some of our trips below where Exodus has made a difference with responsible travel.